Chairman's Message
---
Congratulations!
Knowledge aspirants you have relied upon indeed, one of the best academic citadel of India. Certainly, it's a Herculean task to put your finger on any college in the long list of B-Schools, and give control of one's life rein in any one hand. In the short span of twenty five years, Rajiv Academy for Technology & Management (RATM) has enviably emerged and established itself as a premier institute in the sphere of Management and technical education in northern India. We have achieved gratifying goals, hit tantalizing targets with an unprecedented zeal and zoom and proved ourselves at all fronts. The college has successfully completed twenty five golden years of glorious growth and entering into twenty six year of its significant existence, shaping careers of thousands of young aspirants by means of exemplary and hi-tech professional education and by helping they get suitable placements in the highly competitive job market. For this, Institute has received unprecedented applause from far and near.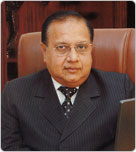 At RATM every new session draws more and more aspirants to it because of the quality of professional education imparted here in a highly disciplined academic environment and a scope of all round development of personality. The vision of the management, the dedication of the director of the institute and endeavors of the faculties and other staff members have raised this prestigious institution to greater heights, setting RATM at the place of pride amongst college in northern India. With a great enthusiasm and euphoria, this year we are celebrating the completion of twenty five year.
Starting as an organization with a modest beginning, a beginning that never gave a cause to look back, today, the college can boast of being 'A' ranked institute and on top of it one of the best Institutes in India. It has carved out a niche amongst the best Institutes in India. The students of RATM made us proud by meritorious results, enthusiastic and successful placements in the corporate sector.
With this, I extended my heartiest and warm welcome to all those who are going to be part of RATM's way towards excellence.
Dr. Ram Kishore Agrawal
Chairman