Director's Message
Stepping away from a conventional organizational we take you into unchartered territory ….. Get a sense of uniqueness, "Beyond pigeonholes" shows how the concept of egalitarian culture is evolving …….a concept that advocates equality, beyond hierarchies.
The Indian economy today needs a turnaround and implementation of harsh measures to tackle slowing growth. Over the years management & IT has provided a platform to academicians researchers and corporate to disseminate research outcomes having practical applications to business world.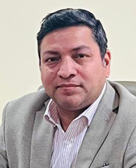 Undeniably. "You get what you deserve"……and more so when it comes to education, for whom targets & performance are "oh-so-measurable." But what works as a reward for one, may not even ring a bell for another, which brings us to acknowledge the power of personalizing reward.
Our youth are obviously our key nation resource, they need to be cherished nurtured and developed with vision, determination & engagement. And to achieve all this we need to get our education right. Youth of our country are born intelligent. They require guidance and in today's context teacher should act as facilitator rather than lecture. The 'mantra' is to deal with the root problem. I am sure you've heard "Get back to Basics", the truth is we have been advocating and practicising the basics for nearly six decades.
At RATM we have redefined the system and education to ensure the market compatibility of students. In addition to traditional education we focus on overall personality grooming & practical approach. At RATM we believe in triple "A" which defines the environment and stands for…."Approach", "Attitude" & "Aptitude".
RATM is top 100 ranked Institute in the country & one of the best in this region with sharp and intellectual brains. The placement record is not only fabulous for PG course but amazing for UG course as well. On behalf of RATM family I welcome all sharp and bright brains to become a part of RATM family.
Dr Amar Kr Saxena
Director
[email protected]